William Heiman, President and Chief Executive Officer
Click to Read Bio
This manager has the primary responsibility to oversee all aspects of Securatex including but not limited to all financial, operational, sales and personnel activities. Securatex Chief Operating Officer, Mr. William Heiman, has a combined military/security background. Bill has served with 4th Force Reconnaissance Company HI as well as 2nd BN 24th Marines, Scout Sniper Platoon. Over the course of eight years as a Reconnaissance Marine he has received considerable training in leadership, observation, communication, threat assessment, and interdiction.  He deployed with the Marine Corps in support of OIF 2-2 and was recognized for gainfully employing surveillance techniques which lead to the capture and arrest of key leaders in the "Abu Ayman" insurgent organization.
Bill has been involved with Securatex since 1999. He began his career with Securatex as a security officer, I.T. assistant, consultant, Quality Assurance and Sourcing Manager, and after employment with General Electric Company, assumed the role of Managing Director of Operations. In December of 2012 he was promoted to Chief Operating Officer.
Bill is a Black Belt in Lean Six Sigma, an ISO 9001:2000 Implementation Specialist and an Internal Auditor. Bill successfully authored an ISO 9001:2000 QMS within five months of employment with General Electric Company. This resulted in certification with no non-conformities.  Bill has demonstrated and continues to implement change throughout Securatex which has resulted in a significant statistical reduction of operating costs while providing new technologies and equipment.
Bill is a member of ASIS and the Special Agents Association. For his service in the Marine Corps Bill has been acknowledged in Marine Force Recon (Pushies, Fred. Marine Force Recon. St. Paul, MN: MBI Publishing,2003).

Click to Read Bio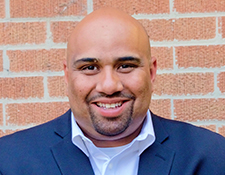 For more than 17 years, Amauris has served in all facets of the security industry. Amauris joined the security industry in 2001 as an hourly security officer. In 2003 he was promoted to Operations Manager due to his abilities to recruit, train and schedule employees.
While employed with Per Mar Security Services, Amauris was promoted to General Manager in 2009 and has achieved consistent high scores from his clients in quality of service ratings. During his time with Per Mar Security Amauris specialized and managed security programs for large health systems, school districts and transportations companies.
In 2012 Amauris joined Securatex, he currently oversees and is responsible for all Securatex operations. Amauris prides himself on working closely with our clients and building a strong relationship to see that our security officers are performing at the highest level.

Aaron Frye, Regional Operations Manager
Click to Read Bio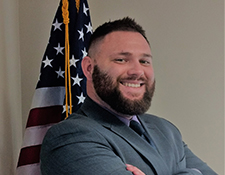 Aaron has security experience dating back to 2003. His career started while attending Indiana State University where he worked at Recreational Sports. He oversaw five employees and responsibilities including medical response, emergency action planning and training.
He went on to join the United States Marine Corps where he served as an enlisted infantry mortarman and worked his way up to Corporal and Squad Leader. While in the Marine Corps, Aaron was deployed to Belize (Operation Trade Winds 2007), Iraq (OIF 2009/2010), and Norway (Operation Cold Response 2012). Through the Marine Corps, Aaron was trained in nonlethal weapons tactics, nonverbal communications, non-confrontational integration tactics, and riot control tactics. While still serving as a reservist with the Marine Corps, Aaron started working with G4S Secure Solutions. He started as a flex officer and quickly worked his way up. He put time in as a site supervisor managing the security for the largest cast-iron foundry in the state of Indiana, a project manager for the largest online retailer in the world, and serving as the interim training specialist.
While with G4S, Aaron at any given time was managing more than 50 employees and various client vendors, overseeing two security locations, in charge of emergency evacuation planning and training at this sites, improved classroom participation through his instruction, and found ways to save the company money by tracking issued security gear.
After six years of service with G4S, Aaron accepted a position with Securatex as their Regional Operations Manager over Indiana and Michigan. During his time with Securatex, Aaron has streamlined Securatex's patrol team and implemented control measures creating a cost savings of more than $60,000. Aaron continues to improve client relations and is improving employee survey results.

Ellen Angel, HR/Payroll/Scheduling Manager
Click to Read Bio
Ellen entered the Security Industry when she joined Securatex. She has more than 28 years experience in human resource management. Ellen started as a Call Center Coordinator and was promoted to Scheduler/Payroll 6 months later. One year later Ellen became the Illinois Regional HR Specialist due to her ability to recruit, train and communicate with Security personnel.  Most recently, Ellen took on the role of HR Manager for Corporate and the Illinois Region.
Previous to Securatex, Ellen was an HR Manager for JC Penney for 21 years.  She started with JC Penney as a sales associate and worked her way up the retail environment.  Once Ellen became HR Manager she had the highest level of employee retention in the Chicago Market. She understands the importance of quality recruiting, employee training and retention. She has an Associate's Degree in Business Management
Angele@securatex.com
(708)774-5832

Nathalie Sylvestre, HR Recruiter for Illinois and Wisconsin
Click to Read Bio
Nathalie is the HR Recruiter for Illinois and Wisconsin area for Securatex. Additionly, she schedules and interviews potential candidates. She also processes the on-boarding for new employees by running background checks and drug testing. Furthermore, she also assists with the administrative duties of HR. Before joining Securatex, she worked in different types of industries as an HR Assistant, Recruiter and On-boarding specialist.

Click to Read Bio
Richelle joined Securatex in 2003 as the staff accountant. In addition to collections, Richelle prepares all the month end and year end accounting work and plays a lead role in the preparation of reviewed financial statements. Richelle is also the team project coordinator for proposals and supports the sales team in attaining their goals. Prior to her career at Securatex, Richelle was an Accounts Payable Supervisor at an international moving company for 13 years.

Don James, Illinois Regional Operations Manger
Click to Read Bio
With Securatex since 2015
This manager has the primary responsibility to oversee the day to day operation for Securatex in the state of Illinois.
For 16 years, Don James has served in all facets of the security industry. Don joined the security industry in 1999 as an hourly security officer.  Between 1999 and 2011 he held several positions to include Security Officer, Field Supervisor, Support Center Operator, and Support Center Supervisor.  In 2012, he was promoted to Account Manager overseeing the day to day operations of roughly 6, 000 account hours in 4 states, and at the end of 2012 was promoted to Senior Area Manager in which he was tasked with overseeing over 7,000 weekly account hours and Managers for the Organization.  During this time, at Diamond Detective Agency and US Security Associates, Don was able to recruit, train, and retain qualified professionals to ensure quality service to clientele and manage a portfolio of premier accounts to include several south suburban high school and middle school districts.   Additionally, he prepared and processed weekly payroll for over 200 employees and was in charge of a fleet of 20 vehicles for the State of Illinois.
In June of 2015 Don joined Securatex, in which he currently oversees and is responsible for operations within the Illinois/Wisconsin region.
Djames@securatex.com
(708)774-2148

Marilyn Kmiotek, Accounting Manager
Click to Read Bio
Marilyn earned her degree from DePaul University. She is the Accounting Manager and has worked for Securatex for more than 26 years.  She is charged with processing billing, payroll, accounts payable and running background checks.